About Us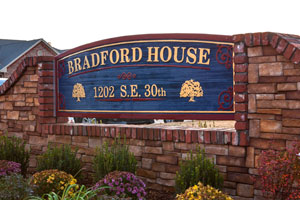 When you walk in the front door you will feel a comfortable atmosphere hopefully different than any other facility you have visited. We have tall ceilings and an open floor plan. We have a lovely dining room and an covered outdoor patio area. We have posted pictures on the website to give you an idea but the best way to appreciate the space is to come and visit us.
We offer Short-Term Rehabilitation, Long Term Care services and a Locked Observation Unit.  The Short –Term Rehabilitation area has its own dining area, day room and a separate entrance for convenience to family and friends.  The Locked Observation Unit is a 12 bed unit which offers specialized care for people that are at risk for increased falls, wandering and communication barriers that could lead to other issues.
From the moment you enter our facility, we want you to experience the difference our facility has to offer. From our light filled day areas to our beautiful outdoor area, we want you and your loved one to feel comfortable and safe when staying with us. You will also notice the pride we take in our facility by keeping our building sparkling clean from the inside out.
We specialize in Short-Term Rehabilitation and Long-Term Care services. Our team is dedicated to providing a comfortable environment.